Recipe: Blueberry and Peach Crumble
Ingredients
For the fruit:
1 (28oz) can of sliced peaches in heavy syrup
1 (14oz) can of sliced peaches in heavy syrup
2 teaspoons grated lemon zest
2 tablespoons freshly squeezed lemon juice
1/4 cup granulated sugar
1/4 cup all-purpose flour
1 1/2 cups fresh blueberries
For the crumble:
1 cup all-purpose flour
1/3 cup granulated sugar
1/4 cup light brown sugar, lightly packed
1/2 teaspoon kosher salt
1/4 teaspoon ground cinnamon
1 stick cold unsalted butter, diced
Instructions
Preheat the oven to 400 degrees F.
Prepare a sheet pan lined with parchment paper and place 6 ramekins evenly spaced apart on the pan.
Open and drain the canned peaches in a strainer and place them in a large bowl then add the lemon zest, lemon juice, ¼ cup granulated sugar, and the flour. Stir and combine well then add the blueberries and mix in gently. Allow the mixture to sit for at least 5 minutes before evenly spooning the mixture into the 6 ramekins.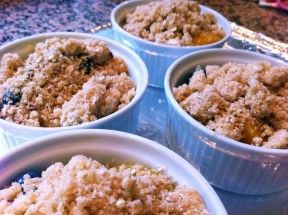 To make the topping just combine the flour, granulated sugar, brown sugar, salt, cinnamon in the bowl of an electric mixer using the paddle attachment. Add the cold diced butter mixing on low speed until the butter is the size of peas. Remove the bowl and using your fingertips rub the mixture until it's in big crumbles and then sprinkle evenly over the fruit.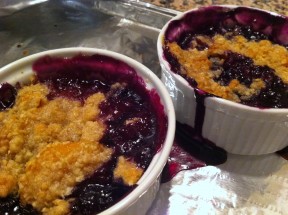 Bake for 35 to 45 minutes, until the tops are browned and crisp and the juices from the fruit are bubbly.
Serve warm or at room temperature & with vanilla ice cream.
Number of servings (yield): 6
Meal type: dessert
Recipe adapted from the Barefoot Contessa   http://www.barefootcontessa.com/
Copyright © Copyright andicakes 2010.
Recipe by yumm yumm yumm.
Microformatting by hRecipe.