Recipe: Pasta Corn Chowder
Ingredients
1 pound fettuccine
6 slices smoky bacon, chopped
6 ears corn on the cob
3 shallots, finely chopped
1 small red bell pepper, seeded and chopped small
Freshly ground black pepper
1 cup light cream
1/2 cup dry white wine
2 tablespoons chopped fresh thyme leaves
1/8 tsp crushed red pepper
1/2 cup grated Parmigiano-Reggiano or Pecorino Romano plus more to pass at table and garnish
5 sweet basil leaves julienned
Instructions
Bring a large pot of water to boil over medium heat. Salt the water, add the pasta and cook to al dente as specified on the package instructions.
Prepare 4 ears of corn by washing the ears and removing the husks. In a large bowl use a chef's knife and shave the corn kernels from the cob. Use the backside of the knife and scrape the cob of any excess juices. Reserve corn kernels with their juices and set aside.
Prepare the other 2 ears the same way but place these kernels with their juices in the blender and add 1 cup of light cream and blend until just puréed and set aside.
Heat a medium sized dutch oven over medium-high heat. Add the chopped bacon and cook until the pieces are crisp. In the same dutch oven with the crisped bacon add the finely chopped shallots, red pepper and the bowl with the 4 ears of corn shaved from the cob with any juices it has accumulated. Cook for 5-7 until the vegetables are tender. After 5 to 7 minutes add the wine and the chopped thyme into the corn and vegetables, and simmer over low heat for a minute to reduce for another 5 minutes. Stir in the puréed corn-cream mixture and cook for 3 to 4 minutes, stirring frequently, to thicken. Add crushed red pepper and season with salt and pepper, to taste. Add grated cheese and stir to incorporated and remove from the heat.
Drain the pasta and add it to a large serving bowl. Pour in the sauce, and toss well. Garnish with the julienned basil and more grated cheese.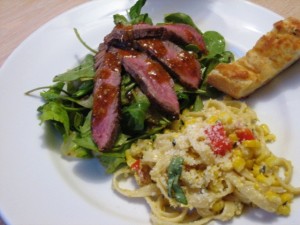 Meal type: dinner
Copyright © Andicakes 2010.
Recipe by yumm yumm yumm.
Microformatting by hRecipe.