Recipe: Pasta con Pesto Alla Trapanese- Pesto Siciliano
Ingredients
3/4 cup slivered almonds- toasted
2 1/2 cups cherry or grape tomatoes
1/2 cup packed fresh basil leaves
2 medium garlic clove, peeled & sliced
1 small pepperoncini sliced, seeds and stem removed
½ tsp kosher salt
¼ tsp red pepper flakes
1/3 cup extra-virgin olive oil, plus 1 Tbs
1 pound pasta, preferably a string type pasta
1/2 cup Parmesan or pecorino Romano cheese, plus extra for serving
Instructions
In a skillet over medium heat, toast the slivered almonds for about 6 minutes until they turn golden and fragrant. Allow the toasted silvered almonds to cool to room temperature.
Bring a large pot of water to a boil and season with salt. Add the pasta and cook to the package specifications for al dente. Drain the pasta and reserve 1/4 cup of the pasta cooking water.
Pour the cooked pasta back in the pot and drizzle 2 Tbs extra virgin olive oil over the cooked pasta to prevent sticking.
In a food processor, only add the cooled toasted slivered almonds, cherry/grape tomatoes, basil, garlic, pepperoncini, kosher salt, and red pepper flakes and process until smooth scraping down sides of bowl with rubber spatula half way through processing. About 1 minute total Add the extra virgin olive oil with machine running and slowly drizzle in oil through the top of the processor to fully incorporate this will take about 20-30 seconds.
Add all of the pesto and 1/2 cup grated parmesan or Romano cheese to cooked pasta. Use tongs to swirl and incorporate the sauce on the pasta. If the sauce is too dry add a little of the reserved pasta water. Serve immediately, passing extra Parmesan or Romano cheese at the table
Meal type: dinner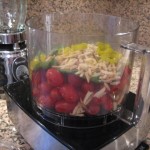 Culinary tradition: Italian
Recipe adapted from America's Test Kitchen   http://www.americastestkitchen.com/
Copyright © Andicakes 2010.
Recipe by yumm yumm yumm.
Microformatting by hRecipe.