Recipe: Blue Cheese Dressing
Ingredients
1 1/2 cups crumbled blue cheese, divided
3/4 cup good mayonnaise
3/4 cup sour cream
2 tablespoons milk
3/4 teaspoon Worcestershire sauce
1 teaspoons kosher salt
3/4 teaspoon freshly ground black pepper
Instructions
In a food processor fitted with the steel blade attachment, combine all of the ingredients but reserve ½ cup of the blue cheese. Process until smooth and serve over wedges of iceberg lettuce and sprinkle the remaining ½ cup of blue cheese over the dressing. Garnish with fresh black ground pepper to taste.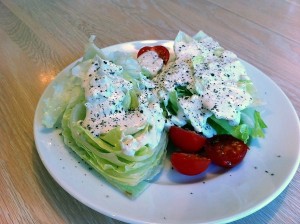 Recipe adapted from the Barefoot Contessa   http://www.barefootcontessa.com/
Copyright © Andicakes 2010.
Recipe by yumm yumm yumm.
Microformatting by hRecipe.