Recipe: Pommes Anna
Ingredients
3 lbs russet potatoes, peeled
5 Tbs unsalted butter, melted
1/4 cup vegetable oil
Kosher salt & fresh ground pepper to season
Instructions
Preheat the oven to 450 degrees F and adjust the rack to the lower-middle position.
Using a mandolin, slice the potatoes between 1/8 to 1/16 inches in thickness. Place the sliced potatoes in a large bowl and pour the melted butter and toss to coat well.
Pour the oil in an oven safe non-stick 12" skillet and coat the pan evenly and heat over medium-low heat. It is important to set the timer for 30 minutes as this process must take 30 minutes from the time you begin to position the potato slices to the time you transfer the prepared skillet to the oven. You will finish layering the potatoes within the 30 minutes but the potatoes will need the full 30 minutes in the skillet on the stovetop to cook before they can be transferred to the oven.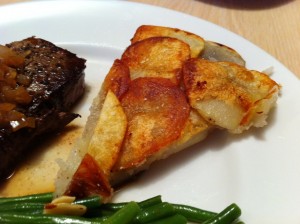 Now, begin the timer and start arranging the potatoes in the pan starting in the center and going clockwise in a concentric circle forming the first layer. After the first layer season lightly with salt and pepper and then start the second layer going in the opposite direction and season again. Continue the process until the sliced potatoes have been used repeating the circular patter in opposite directions. If you complete the layering prior to the 30 minutes, leave the skillet on the stove and continue to cook the potatoes for the remainder of the 30 minutes over medium low heat.
After the 30 minutes have elapsed, use a circular plate or a 10 inch pie pan to press the mound down to form a flat surface. Cover the skillet with an oven safe lid and transfer to the oven to bake covered for 15 minutes. Uncover the potatoes after 15 minutes of baking and cook for another 10 to 15 minutes to allow the potatoes to brown and cook through.
Remove the skillet from the oven when the potatoes are tender, you can check this by inserting a pairing knife in the center and it slides with no resistance. Carefully invert the skillet to a rimless serving plate, carefully pour off the excess grease (there will be quite a bit to prevent sticking) and clean the grease off from the platter. Slice into wedges and serve!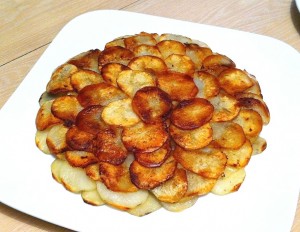 Recipe adapted from America's Test Kitchen   http://www.americastestkitchen.com/
Copyright © Andicakes 2010.
Recipe by yumm yumm yumm.
Microformatting by hRecipe.