Recipe: Coconut Macaroons
Ingredients
14 oz sweetened shredded coconut
1 can (14 oz) sweetened condensed milk
1 tsp pure vanilla extract
2 XL egg whites, at room temperature
1/8 teaspoon kosher salt
Instructions
Preheat the oven to 325 degrees F and prepare to sheet pans lined with parchment paper In a large bowl combine the shredded coconut, the sweetened condensed milk and the vanilla. Stir the ingredients lightly to just incorporate them together.
In a stand mixer add the room temperature egg whites and the kosher salt using the whisk attachment and whip until firm peaks form. Use a rubber spatula to fold in the beaten egg whites into the coconut mixture. Be careful not to deflate the egg whites when folding.
 Using 2 spoons drop the batter onto the sheet pan making about 20 to 24 macaroons depending on the size. Bake for 25 to 30 minutes until they are golden brown.
Remove from the oven, cool and serve.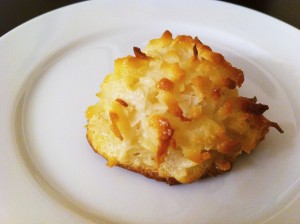 Recipe adapted from the Barefoot Contessa   http://www.barefootcontessa.com/
Copyright © Andicakes 2010.
Recipe by yumm yumm yumm.
Microformatting by hRecipe.