Recipe: Chicken Chili
Ingredients
4 split chicken breasts, bone in, skin on
Freshly ground black pepper
Kosher salt
3 Tbs good olive oil, divided
4 cups chopped yellow onions
2 Tbs minced fresh garlic
2 red bell peppers, cored, seeded, and large-diced
2 yellow bell peppers, cored, seeded, and large-diced
1 tsp chili powder
1 tsp ground cumin
1/4 tsp dried red pepper flakes
1/4 tsp cayenne pepper
2 (28oz) cans whole peeled plum tomatoes in puree, undrained
1/4 cup minced fresh basil leaves
Toppings for serving:
Chopped scallions
Grated cheddar
Sour cream
Instructions
Preheat the oven to 375 degrees F.
Prepare the chicken by placing the chicken breasts on a sheet pan and rub them with 1 Tbs of good olive oil and sprinkle with kosher salt and pepper.
Roast the breasts for 35 to 40 minutes, or until cooked through and the internal temperature reaches 165 degrees. Set aside until cool enough to handle, then cube into large diced pieces and set aside.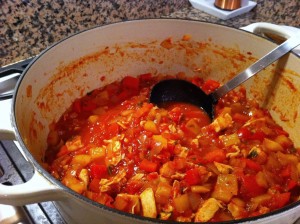 Meanwhile, cook the onions in the oil over medium-low heat for 10 to 15 minutes, until translucent and fragrant then add the garlic and cook for 1 more minute. Next add the chopped large diced red and yellow bell peppers, chili powder, cumin, red pepper flakes, and cayenne peper. Cook for 1 minute stirring to incorporate. Now add the whole tomatoes but crush them in your hands to break them apart before adding them to the pot. Next add the fresh minced basil and bring the pot to a boil and then reduce the heat and simmer uncovered for 30 minutes in total while stirring occasionally.
After simmering for 30 minutes add the cubed chicken and simmer uncovered for 20 minutes to warm the chicken through and combine the flavors. Stir the chili occasionally.
After 20 minutes ladle the chili into bowls and serve with toppings such as cold sour cream, grated cheddar cheese, chopped scallions or even fresh chopped jalapeños.
Recipe adapted from the Barefoot Contessa   http://www.barefootcontessa.com/
Copyright © Andicakes 2010.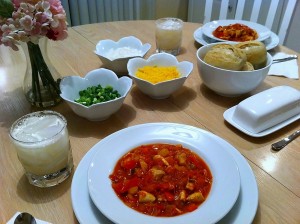 Recipe by yumm yumm yumm.
Microformatting by hRecipe.