Recipe: Panettone French Toast
Ingredients
Toppings:
Warmed jam
Sprinkled confectioners sugar
Instructions
Preheat an oven to 200ºF.
In a medium bowl add the eggs, cinnamon, salt and milk and whisk together until well combined.
In a skillet over medium heat, melt 1 tsp of the butter for each batch and dip two bread slices in the bowl, turning once, for 5 seconds at a time. Place sliced almonds on the sliced coated bread and transfer the coated bread slices with sliced almonds to the heated skillet with butter and cook turning once until golden brown on both sides, about 2-3 minutes per side.
Transfer the browned slices to a baking sheet fitted with a wire rack and transfer to the oven to keep warm. Repeat for the remaining six slices and add to oven to keep warm. Remove the toasts from the oven, transfer to a serving platter and dust the warm toasts with confectioners' sugar and serve!
Copyright © Andicakes 2010.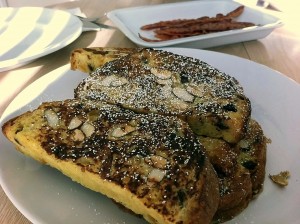 Recipe by yumm yumm yumm.
Microformatting by hRecipe.