Recipe: Cookie Dough Truffles
Ingredients
8 tbsp. unsalted butter, at room temperature
¾ cup light brown sugar, packed
2¼ cup all-purpose flour
1/8 tsp table salt
1 (14 oz.) can sweetened condensed milk
1 tsp. pure vanilla extract
16 oz semisweet chocolate
16 oz bittersweet chocolate
Instructions
Chop all the chocolate into small chips and set aside 1/2 cup. Place the remaining chocolate in a heat proof bowl.
In a stand mixer cream the butter and sugar on medium-high speed until light about 3 minutes then beat in the flour, sweetened condensed milk, vanilla, and the pinch of salt until incorporated and smooth. Stir in the ½ cup of chopped chocolate and cover with plastic wrap and refrigerate for 30 minutes and until the mixture is firm enough to form balls.
After 30 minutes prepare two sheet pans lined with parchment paper. Remove the cookie dough from the refrigerator and begin shaping the chilled cookie dough mixture into 1 inch balls by rolling about 1 tablespoon of the mixture between your palms circularly and quickly. Place the rolled cookie dough balls on the sheet pans lined with parchment paper and freeze them for 1 hour.
After 1 hour melt the chocolate over a double boiler by simmering water in a pot and placing the heat proof bowl of chopped chocolate over the simmering water but not allowing the bowl to touch the simmer water. Use a whisk to incorporate the melting chocolate into the chopped chocolate until the mixture is smooth and fully melted. Once the chocolate is melted carefully remove the heat proof bowl from the simmering water and using a toothpick insert a toothpick into the center of the frozen cookie dough balls then coat into the melted chocolate. Transfer the truffles back to the sheet pans lined with parchment paper and continue until all the cookie dough balls have been dipped. The truffles should be stored in the refrigerator and served cold. Makes about 4 dozen.
Meal type: dessert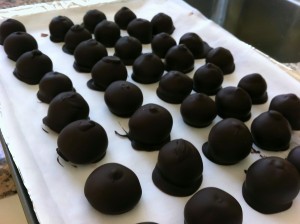 Copyright © Andicakes 2010.
Recipe by yumm yumm yumm.
Microformatting by hRecipe.