Recipe: Clam Chowder
Ingredients
12 Tbs unsalted butter, divided
2 cups chopped yellow onions
2 cups, celery diced medium
2 cups carrots, diced medium
4 cups peeled Yukon potatoes, medium diced
1 1/2 tsp minced fresh thyme leaves
1 tsp kosher salt
1/2 tsp freshly ground black pepper
1 quart clam juice
1/2 cup all-purpose flour
2 cups milk
1 1/2 pounds shucked clams chopped in half
1 Tbs minced flat leaf parsley for garnish
Instructions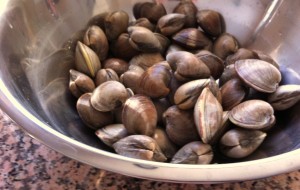 In a large Dutch oven melt 4 Tbs of butter and add the diced onions and sauté for 10 minutes until the onions are translucent. Next add the carrots, celery, diced potatoes minced thyme, salt and pepper and continue to sauté for another 10 to 15 minutes. Add the clam juice and bring the pot to a boil, then reduce the heat to a simmer uncovered for 20 to 25 minutes until the potatoes are cooked through.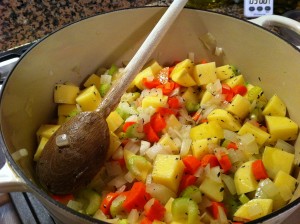 Meanwhile use a small saucepan to melt the remaining 8 Tbs of butter over low heat then add the flour while whisking constantly for 3 minutes. Add 1 cup of the liquid from the Dutch oven and add it to the saucepan with the butter and flour and whisk until slightly thicken and incorporated and then add the entire mixture back into the large Dutch oven with the vegetables.
Next add the milk and clams and heat over low heat for 3-5 minutes to cook the clams and serve.  Garnish with minced flat leaf parsley.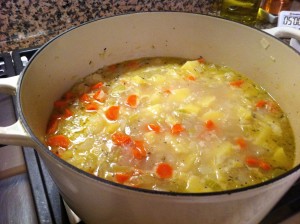 Recipe adapted from the Barefoot Contessa   http://www.barefootcontessa.com/
Copyright © Andicakes 2010.
Recipe by yumm yumm yumm.
Microformatting by hRecipe.