Recipe: Caribbean Jerk Chicken
Ingredients
4-6 boneless, skinless chicken breasts
1/3 cup vegetable oil
1 onion, coarsely chopped
2 scallions stalks, coarsely chopped
1 Tbs grated fresh ginger
3 cloves garlic, coarsely chopped
1 Tbs finely chopped fresh thyme
2 Tbs red wine vinegar
1 Tbs light brown sugar
1/4 tsp ground cinnamon
1/4 tsp freshly ground nutmeg
1/8 tsp ground cloves
1/2 tsp ground allspice
1/2 tsp Kosher salt
1/4 tsp freshly ground black pepper
1 tsp fresh lime juice
1 small Scotch bonnet pepper, stem and seeds removed
1 small Habanero pepper, stem and seeds removed
Instructions
Rinse and pat dry the boneless chicken breasts. Remove excess fat by trimming the breasts and place the chicken breasts into a large sealable plastic bag and place the bag on a rimmed dish incase the bag leaks.
Use a food processor fitted with a steel blade and puree all of the ingredients except for the chicken breasts and pulse until the marinade just becomes smooth. Add the marinade to the large plastic bag with the chicken and refrigerate for up to 30 hours for stronger flavor.
Use the grill or an indoor grill pan making sure to oil the grates or grill pan very well. Add the chicken and grill for 5-8 minutes per side or until the breasts just reaches 165 degrees F. Allow the breasts to rest for 5 minutes and serve.
Copyright © Andicakes 2010.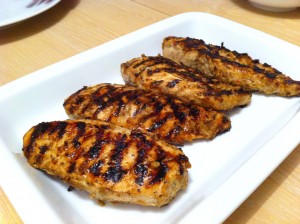 Recipe by yumm yumm yumm.
Microformatting by hRecipe.