Recipe: Mojito
Ingredients
2 bunches fresh mint, cleaned, divided
750 ml light rum
1 cup sugar
3 lemons, juiced
4 limes, juiced
1 liter club soda
Ice
Lime slices for garnish
Instructions
In a large pitcher, muddle only 1 bunch of the mint sprigs with 750 milliliters of light rum and 1 cup sugar. Allow the rum, sugar and muddled mint to chill in the refrigerator for 1 hour and for the sugar to dissolve.
 After 1 hour strain out the muddled mint and return the mint enhanced sweetened rum back into the pitcher. Now add the lemon and lime juices along with the club soda and stir to combine. Add ½ of the remaining mint leaves to the pitcher.
Add ice to tall glasses for serving, fill the glasses with mojito, add a slice of lime and a sprig of mint from the remaining bunch to each glass and serve. Drink responsibly.
Copyright © Andicakes 2010.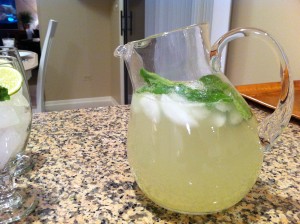 Recipe by yumm yumm yumm.
Microformatting by hRecipe.