Recipe: Apple & Celery Root Puree
Ingredients
1 Stick unsalted butter
1 cup large diced Spanish onion
2 lbs celery root, peeled and medium diced
8 oz Yukon gold potatoes, peeled and medium diced
3 Golden Delicious apples, peeled, cored, and medium diced
Kosher salt and freshly ground black pepper to taste
1/2 cup apple cider
1/4 cup heavy cream
Instructions
In a large Dutch oven melt the butter and add the diced onions, the diced and peeled celery root, diced potatoes, diced apples, salt and pepper and sauté together uncovered over medium-low heat for 8 minutes until everything is softened.
Now add the apple cider to the pot, bring the liquid to a just a simmer, cover the pot and lower the heat to your lowest setting so the pot barely simmers for 30-40 minutes. Stir the contents on occasion making sure nothing burns and the adding just a few tablespoons of more apple cider if needed.
After 30 to 40 minutes everything should be extremely soft and then add the cream, stir in gently and transfer to a food processor and pulse until just combined (about 3 pulses). Transfer to a serving bowl and enjoy.
Recipe adapted from the Barefoot Contessa   http://www.barefootcontessa.com/
Copyright © Andicakes 2010.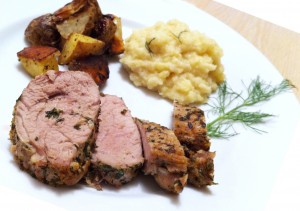 Recipe by yumm yumm yumm.
Microformatting by hRecipe.