Recipe: Grilled Lemon Chicken Filets
Ingredients
2 lbs boneless chicken breasts, sliced in half lengthwise
1 Tbs lemon zest
3/4 cup freshly squeezed lemon juice
3/4 cup extra virgin olive oil
1 tsp kosher salt
1 tsp fresh ground black pepper
1 Tbs minced fresh thyme leaves
1 tsp minced rosemary leaves
Instructions
Place all the sliced chicken breasts in a large zip lock bag. In a small bowl whisk together the lemon zest, lemon juice, olive oil, salt, pepper, thyme and rosemary. Pour over the chicken breasts in the zip lock bag and place in a rimmed dish in the even the bag leaks. Marinate the chicken in the refrigerator overnight.
Preheat the grill with medium heat and grill the chicken breasts for 5-7 minutes on each side, until just cooked through and the center or thickest breast reads a temperature of 165 degrees F.
Preparation time: 20 minute(s)
Recipe adapted from the Barefoot Contessa   http://www.barefootcontessa.com/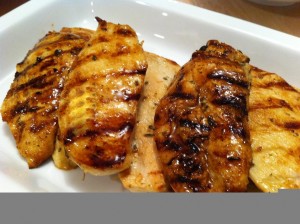 Copyright © 2011 Andicakes.
Recipe by Now you're cooking!.
Microformatting by hRecipe.