Recipe: Deconstructed Twice Baked Potatoes
Ingredients
2 lb russet potatoes
1/2 cup minced red onion
2 1/2 cups grated white cheddar cheese, divided
½ cup grated Parmigianino-Reggiano cheese, divided
½ tsp kosher salt
½ tsp fresh ground white pepper
1 Tbs finely minced fresh thyme
1 1/2 cups sour cream, divided
Instructions
Preheat the oven to 425 degrees F.
Line a sheet pan with foil for easy clean up. Wash and scrub the unpeeled potatoes. Dry the potatoes and pierce each potato with a fork several times. Bake the potatoes on the foil lined sheet pan for 1 hour 20 minutes and cool them to room temperature. Once the potatoes have cooled place them in the refrigerator covered in plastic wrap overnight to firm.
The next day prepare preheat the oven to 350 degrees F
Remove the baked potatoes from the refrigerator. Use a box grater and grate the cold baked potatoes including the skins and set into a very large bowl. Next add the minced red onions. Next set 1/2 cup of the grated white cheddar cheese aside and add the remaining 2 cups of the grated white cheddar cheese to the large bowl along with only ¼ cup of the Parmigianino-Reggiano cheese. Add the salt, white pepper and thyme and only ½ of the sour cream amount. Combine the mixture gently by folding the ingredients and then add the remaining sour cream to distribute evenly.
Lightly butter a 1 1/12-2 quart gratin dish and transfer the mixture making sure not to compress the mixture. Sprinkle the remaining ½ cup of the grated white cheddar and ¼ cup of the Parmigianino-Reggiano cheese over the top of the dish. Set the dish on a sheet pan lined with foil or parchment paper in case the cheese melts over and bake for 30-40 minutes until the cheese is bubbly.
If desired, broil for 3 minutes to darken the cheese topping
Recipe adapted from the Williams Sonoma  http://www.williamssonoma.com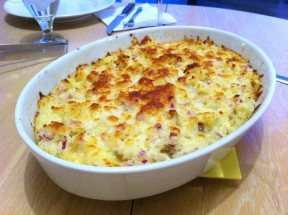 Copyright © 2011 Andicakes.
Recipe by Now you're cooking.
Microformatting by hRecipe.