Recipe: Moroccan Chickpea, Lentil and Chicken Stew
Ingredients
1 1/2 pounds boneless, skinless chicken thighs
3 Tbs olive oil
1 ½ tsps kosher salt, divided
1 ½ tsp freshly ground black pepper, divided
1 cup diced onions
1/2 cup diced celery
2 tsp ground ginger
2 tsp turmeric
1/2 tsp ground cinnamon
1/2 tsp ground nutmeg
2 (28-ounce) can diced tomatoes and their juices
1 1/2 quarts homemade chicken stock
1/4 lb dried green lentils
1/2 cup long-grain rice
1 (15oz) can chickpeas, drained and rinsed
1/2 cup chopped fresh cilantro leaves
2 Tbs chopped fresh flat leaf parsley leaves
¼ cup fresh squeezed lemon juice
Cilantro or parsley sprigs, for garnishing
Instructions
Preheat the oven to 300 degrees F
First prepare the chicken thighs by trimming any excess fat. Cube the chicken into 2 inch pieces and transfer to a plate and season with about 1 teaspoon of kosher salt and ½ tsp of fresh ground black pepper.
Now heat 3 tablespoons of olive oil in a large Dutch oven and brown the chicken pieces in batches. Once all the pieces have been browned set the browned pieces aside on a plate to catch any juices rendered from the chicken.
In the same Dutch oven with any fat add the diced onions and celery and sauté for about 5 minutes until they are softened. After about 5 minutes add the ground ginger, turmeric,
Add the ginger, turmeric, 1 tsp fresh ground pepper, cinnamon, and nutmeg with the softened onions and celery cook and stir for about 1 minute to incorporate the spices and to prevent them from burning. Next add the 2 cans of diced tomatoes with their juices and add the browned chicken pieces back to the pot along with any accumulated juices on the plate and stir to incorporate.
Now add the homemade chicken stock and lentils and bring to a boil, add the cover to the pot and transfer the Dutch oven to the oven to gently simmer for 1 hour.
After 1 hour, remove the pot from the oven add the rice and the remaining ½ tsp of Kosher salt. Stir to incorporate then add the lid and return to the oven for another 30 minutes.
After 30 minutes remove the pot from the oven and return to the stovetop over medium heat and add the drained and rinsed chickpeas and continue to simmer for 5 minutes.
Now add the chopped cilantro, parsley and fresh squeezed lemon juice and stir to incorporate and serve! Garnish the soup bowls with fresh cilantro or parsley sprigs.
Preparation time: 30 minute(s)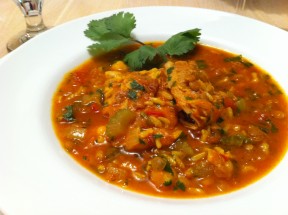 Cooking time: 1 hour(s) 30 minute(s)
Copyright © 2011 Andicakes.
Recipe by Now you're cooking.
Microformatting by hRecipe.