Recipe: Ice Cream Cake Roll
Ingredients
4 egg yolks, room temperature
1 tsp pure vanilla extract
3/4 cup sugar, divided
1/2 cup cake flour
1/3 cup Dutch processed cocoa powder
1 teaspoon baking powder
1/4 teaspoon salt
4 egg whites, room temperature
3 Tbs confectioners' sugar
1/2 cup strawberry jam
2 cups vanilla bean ice cream, softened
Garnish
Hot fudge
Fresh sliced strawberries
Instructions
First prepare a rimmed quarter sheet pan by lining it with parchment paper and spray it with cooking spray and set aside.
Preheat the oven to 375 degrees F. with the rack placed in the middle position.
In stand mixer, add the room temperature egg yolks and using the whisk attachment, beat on high for 5 minutes. Add 1 tsp of vanilla and ½ cup of sugar to the beating egg yolks after 1 minute.
Meanwhile in a medium bowl sift together ½ cup of cake flour, 1/3 Dutch processed cocoa powder and ¼ teaspoon of table salt.
After the egg yolks and sugar have been beating for 5 minutes in total then slowly add the sifted dry ingredients until incorporated into the yolk and sugar mixture. The batter will be very thick. Transfer the batter to large bowl. Clean the stand mixer bowl and whisk attachment and begin the next step.
Add the room temperature egg whites to the bowl of the stand mixer and beat with the whisk attachment until soft peaks form. While the egg whites are beating slowly add the remaining ¼ cup of sugar into the egg whites one tablespoon at a time until fully incorporated and stiff peaks have developed.
Using a rubber spatula take ¼ of the stiff egg whites and mix into the thick batter to loosen and then gently fold in the remainder of the stiff egg whites into the batter taking care not to deflate the egg whites. Continue to fold until incorporated into the batter.
Gently pour the lightened batter in the greased parchment paper lined quarter sheet pan. Bake for 10 minutes or until the cake springs back when you touch it lightly.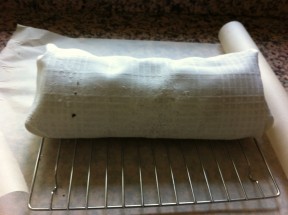 Remove the cake from the oven and allow to cool for only 5 minutes and then invert the cake onto a clean kitchen towel that has been dusted with confectioners' sugar. Roll the cake up in the towel starting at the short end and cool in the towel on a wire rack until room temperature.
Meanwhile allow 2 cups of vanilla bean ice cream to soften at room temperature until it is more spreadable.
Unroll the cake from the towel and spread the strawberry jam evenly leaving a ½ boarder from all the edges. Next spread the softened ice cream over the strawberry jam leaving the same boarder around the edges. Re-roll the cake without the towel being careful not push out jam or ice cream from the cake. Make sure to place the roll seam side down and cover with plastic wrap. Freeze for several hours before servings. Serve a slice with warm hot fudge and sliced fresh strawberries.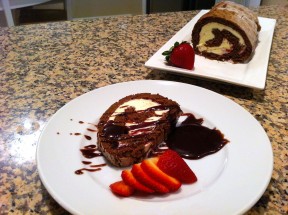 Copyright © 2011 Andicakes.
Microformatting by hRecipe.