Recipe: Boneless Braised Short Rib Beef Stew
Ingredients
For the Stew:
4 lbs boneless beef short ribs
4 large carrots cut into 2 inch pieces
 2 large parsnips cut into 2 inch pieces
2 celery stalks ends/tops removed cut into 1 inch pieces
 2 bay leaves
8 cups beef broth
 2 Tbs tomato paste
 1 cup flour for dredging
2 tsp minced garlic
 2 Tbs canola oil
 10-12 pearl onions (purple) peeled
Salt and pepper for seasoning
2 cups frozen peas
10 small yellow potatoes cut in half
For the Aromatics ingredients:
1 large onion finely diced
 2 small carrots finely diced
 1 small parsnip finely diced
2 celery stalks finely diced
½ cup of chopped fresh parsley
Instructions
Prepare boneless short ribs by trimming excess fat and cutting into 4x2x2 inch pieces. In a small bowl add the flour and season with salt and pepper. Drudge the prepared pieces of beef and set aside.
In another bowl prepare the Aromatics ingredients by finely dicing the ingredients and parsley and set aside.
In a very large dutch oven, heat the oil on stove top on high heat. As soon as it begins to smoke add the beef in batches to brown the beef for 2 minutes per side. When all the beef has been browned transfer them to a plate and set aside. Reduce the heat to medium and in the same dutch oven deglaze the pot with the aromatics mixture which has been finely diced including the parsley. Scrape the browned bits from the bottom of the pan with the vegetable mixture as it begins to give up moisture. Deglaze and break down the aromatic mixture for about 5 minutes until it is very soft and fragrant. Add the 2 Tbs of tomato paste and stir occasionally for 2 minutes. Add the beef stock, garlic, bay leaves and 2 celery stalks cut into 1 inch pieces. Then add the beef including any juices it has releases on the plate and bring to a boil. Reduce to heat to a simmer. Cook on stove covered for 1 and half hours.
After an hour and a half, add the 4 cut carrots, 2 cut parsnips, pearl onions and halved potatoes. Season with salt and pepper if desired and continue to cook covered for another 20 minutes.
After 20 minutes add the peas and cook uncovered for another 10 to 15 minutes or until the potatoes and carrots are fork tender.
Serve with warmed bread and enjoy.
Prep & Cooking time (duration): 3 hours
Recipe adapted from the Barefoot Contessa   http://www.barefootcontessa.com/
Meal type: dinner
Copyright © Copyright andicakes 2010.
Recipe by yumm yumm yumm.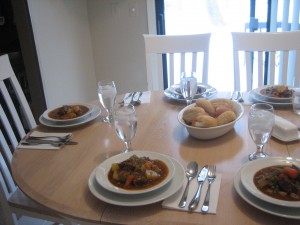 Microformatting by hRecipe.