Recipe: Steak Sandwich Ingredients
Instructions
Preheat the oven to 450 degrees F & Allow the meat to sit out at room temperature for 30 minutes.
Pat the fillets dry and season the fillets with kosher salt and pepper on both sides. Heat a cast iron skillet over high heat. Using a pastry brush spread 1Tbs of vegetable oil on tops and bottoms of steaks. Sear the steak for 1 minute on each side.
Transfer the skillet to the oven and cook for 6-8 minutes to preferred internal temperature. For medium plus doneness with a pink center cook the fillets to an internal temperature of 135 degrees.
Transfer the fillets to a plate, cover tightly with aluminum foil, and allow rest for 10 minutes. Slice the steak into strips.
Meanwhile in a sauté pan, heat 1Tbs of olive oil over medium heat. Add the onion and thyme and sauté for 10-15 minutes, until the onions are caramelized.
Assemble the sandwiches slice the ciabatta bun open and in between place a layer the steak strips sprinkled with a little kosher salt and pepper topped with the caramelized sautéed onions and finish with a layer of baby arugula if using.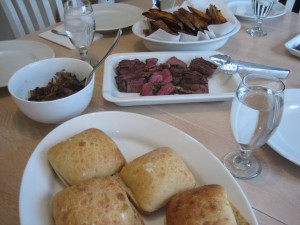 Copyright © Copyright andicakes 2010.
Recipe by yumm yumm yumm.
Microformatting by hRecipe.