Recipe: Balsamic-herb marinade Pork Tenderloin
Ingredients
1/3 cup balsamic vinegar
1/4 cup olive oil
1 Tbs. soy sauce
2 1/4 tsp. firmly packed light brown sugar
1/2 tsp. freshly ground pepper
1/8 cup finely chopped fresh rosemary
1/8 cup finely chopped fresh thyme
2 1/2 garlic cloves, chopped
1 pork tenderloin, about 1 1/4 lb trimmed
Instructions
To make the balsamic-herb marinade, in a food processor, combine the vinegar, olive oil, soy sauce, brown sugar, thyme, rosemary, garlic and pepper and pulse until blended. Continue to process until fairly smooth. Place the tenderloin in a glass bowl and pour the marinade over it. Cover and let stand at room temperature, turning occasionally, for up to 2 hours.
Preheat a gas grill to medium-high heat. Remove the tenderloin from the marinade, reserving the marinade for later Grill the meat over the hottest part and directly over the heat elements of a gas grill. Turn the meat every 4 to 5 minutes and baste with the marinade for up to 5 minutes before the meat is done. The tenderloin will need about 25 minutes total for a slightly pink at the center and juicy doneness.
Test for doneness by inserting an instant-read thermometer into the thickest part of the tenderloin; it should register 140°F. The temperature will rise another 5° to 10°F while the meat is resting.
Transfer the tenderloin to a carving board, cover loosely with aluminum foil and let rest for 5 minutes. Carve by slicing across the grain and at an angle to the cutting board. Serve the tenderloins hot, warm or at room temperature. Serves 4.
 Note: Double the marinade if making 2 tenderloins and will serve 6-8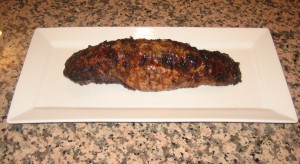 Prep & Cooking time (duration): 40 minutes
Meal type: dinner
Copyright © Copyright andicakes 2010.
Recipe by yumm yumm yumm.
Microformatting by hRecipe.