Recipe: Orange Pecan Rice
Ingredients
1 cup wild or brown rice
About 3 cups Chicken stock Swanson's 33% low sodium
2 Tbs unsalted butter
Kosher salt
1 cup seedless green grapes, halved
1/2 cup scallions, sliced, white and light green parts
1 cup pecan halves, toasted and chopped
1 teaspoon grated orange zest
2 tablespoons freshly squeezed orange juice
1 teaspoon freshly ground black pepper
Instructions
Read the cooking specifications on the package for the rice. Replace the water amount with chicken stock as the rice will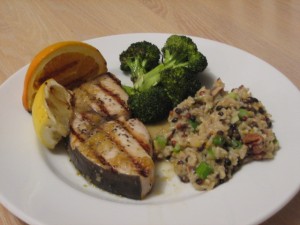 be more flavorful. It should be around 2-3 cups for every 1 cup of rice.
In a medium sauce pan add the rice, chicken stock and 1 tablespoon butter, and 1/2 teaspoon of kosher salt and bring to a boil over medium heat. Cover the pot and lower the heat to a simmer and cook to the package specifications (about 1 hour).
When the rice is finished cooking, turn off the heat, leave the saucepan covered for another 5 minutes. Stir the remaining tablespoon of butter into the rice, and then add the halved grapes, scallions, pecans, orange zest, orange juice, salt and the pepper to taste and toss. Taste for seasonings and transfer to a serving bowl.
Recipe adapted from the Barefoot Contessa   http://www.barefootcontessa.com/
Copyright © Andicakes 2010.
Recipe by yumm yumm yumm.
Microformatting by hRecipe.