Recipe: Jambalaya
Ingredients
1 tablespoon olive oil
2 pounds Andouille sausage, sliced
2 tablespoon butter
1 medium onion, diced
1 cup celery, diced
1 green bell pepper, cored and diced
1 red bell pepper, cored and diced
1 cup seeded and diced fresh tomato
3 garlic cloves, minced
1 teaspoon cayenne
2 teaspoons dried oregano
1 teaspoon fresh thyme, chopped
2 tablespoons tomato paste
6 cups chicken stock, Swanson's Low Sodium
3 cups long grain rice, rinsed
3 bay leaves
2 teaspoons kosher salt
1 teaspoon freshly ground black pepper
½ cup chopped scallions, divided
¾ cup chopped fresh parsley, divided
¼ cup freshly squeezed lemon juice
2 pounds medium shrimp, deveined and cleaned
Instructions
In a very large Dutch oven heat, the olive oil and sauté the Andouille sausage for 8 to 10 minutes over medium heat and until the sausage has browned. Once browned remove the sausage and transfer to a bowl using a slotted spoon and set aside.
Now add the butter, onion, celery and peppers to the same pot and sauté for 8 to 10 minutes, the vegetables will deglaze the pan. Cook the vegetables until the onions are translucent and scrape the brown bits from the bottom of the pan. Now add the tomato, garlic, cayenne, dried oregano, thyme, and tomato paste and cook until all the vegetables and spices are blended well. Add the stock and bring to a rolling boil and then stir in the rice. Add the browned sausage back to the pot and add the bay leaves, salt and pepper. Bring back a boil then reduce the heat to low and simmer, covered, for 15 to 20 minutes.
After 15 or 20 minutes add only ¼ cup of the scallions, and ¼ cup of the parsley, the lemon juice and the all the shrimp, and stir well. Make sure to bury the shrimp under the rice so they cook and stem in the cooked rice. Cover the pot, remove it from the heat and allow the jambalaya steam, 10 minutes or until the shrimp have cooked through.
Garnish with the remaining ¼ cup scallions and ½ cup parsley and serve.
Meal type: dinner
Recipe adapted from the Barefoot Contessa   http://www.barefootcontessa.com/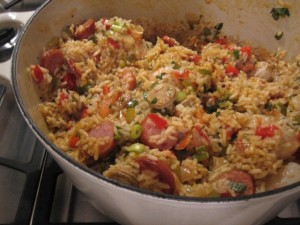 Copyright © Andicakes 2010.
Recipe by yumm yumm yumm.
Microformatting by hRecipe.