Recipe: Roasted Chicken
Ingredients
1 (5 1/2 pound) roasting chicken
Kosher salt
Freshly ground black pepper
Olive oil
1 large bunch fresh thyme, plus 1 Tbs chopped
1 lemon, halved
1 head garlic, cut in half crosswise
2 tablespoons butter
2 large yellow onions, sliced thick
6 carrots cut into 2-inch chunks
Instructions
Preheat the oven to 425 degrees F.
In the bottom of the roasting pan add all the chopped carrots and onions. Add the 1 Tbs of chopped thyme and drizzle all the vegetables with olive oil and season with salt and pepper and toss to combine and set aside.
Rinse the chicken inside and out and remove any giblets stored inside the chicken. Pat the outside of the chicken dry with paper towel and look over for any pins from feathers remaining. Liberally salt and pepper the inside of the chicken using about 1 teaspoon of each and then stuff the cavity with the bunch of thyme, both halves of lemon, and the entire garlic that is cut in half crosswise. Using clean hands rub the outside of the chicken with 2 tablespoons of butter and to coat the skin so it will crisp while cooking then season the outside with ¾ teaspoon of salt and ½ teaspoon of fresh ground black pepper. Tie the legs together with kitchen string and place the chicken on top of the vegetables or on a roasting rack set in the pan.
Roast the chicken for about 1 ½ to 1 ¾ hours, or until the juices run clear when you cut between a leg and thigh. Remove the chicken and set on a carving board to rest for about 15 minutes.
Transfer the vegetables to a serving platter and cover with aluminum foil while the chicken rests.
 Slice the chicken and place on the serving platter along side the roasted vegetables and serve.
Recipe adapted from the Barefoot Contessa   http://www.barefootcontessa.com/
Copyright © Andicakes 2010.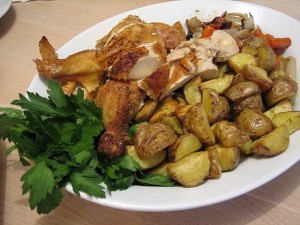 Recipe by yumm yumm yumm.
Microformatting by hRecipe.