Recipe: Chicken Caesar Sandwich
Ingredients
2 split chicken breasts, bone in, skin on
Good olive oil
Kosher salt
Freshly ground black pepper
4 oz pancetta, sliced thin
1 large garlic clove, chopped
2 Tbs chopped fresh flat-leaf parsley
1 1/2 tsp anchovy paste
1 tsp Dijon mustard
1 1/2 Tbs freshly squeezed lemon juice
1/2 cup Hellman's mayonnaise
1 large ciabatta bread
Leaves of Boston lettuce, washed and spun dry
10-12 sun-dried tomatoes, in oil, sliced
2 to 3 ounces Parmesan, shaved
Instructions
Preheat the oven to 350 degrees F. Prepare the chicken by rinsing the breasts and patting dry. Place them on a sheet pan. Drizzle good oil on both sides of the breasts and season with kosher salt and fresh ground pepper. Roast the breasts for 30-40 minutes (depending on size) or until the breasts reach a temperature of 165 degrees. Remove the breasts from the oven and allow them to cool enough on the sheet pan until you able to shred. Once slightly cooled; remove and discard the skin then shred the chicken using a fork and pulling the breast against the grain. This will produce long shreds of chicken easily.
While the chicken is cooling, line a sheet pan with aluminum foil and roast the thinly sliced pancetta for 10 to 15 minutes. Once the pancetta is crisp remove them from the oven and set on paper towels to drain excess grease.
Meanwhile prepare the dressing. In a food processor fitted with the steel blade first process the parsley and chopped garlic until minced and uniform in size. Now add the anchovy paste, mustard, lemon juice and mayonnaise and process until smooth and creamy. Place the prepared caesar dressing in the refrigerator until ready to assemble the sandwich.
Slice the ciabatta in half horizontally. Set the slices ciabatta in a 400 degree oven for 5 minutes cut side faced up to crisp and warm. Remove from the oven and allow to cool to room temperature, about 10 minutes.
Now assemble the sandwich by spreading the refrigerated caesar dressing on both sides of the toasted ciabatta. Now set a layer of clean, dried Boston lettuce. Next place a layer of shredded chicken, sliced sundried tomatoes, crispy pancetta, and lastly the shaved parmesan cheese and place the top on.
Cut the sandwich into 4 sandwiches and serve immediately.
Recipe adapted from the Barefoot Contessa   http://www.barefootcontessa.com/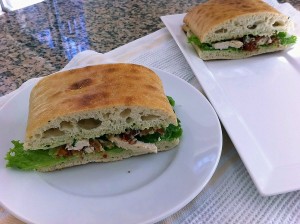 Copyright © Andicakes 2010.
Recipe by yumm yumm yumm.
Microformatting by hRecipe.