Recipe: Italian Wedding Soup
Ingredients
For the meatballs:
3/4 pound ground chicken
3/4 pound hot Italian sausage, casings removed
2/3 cup Italian style bread crumbs
4 cloves minced garlic
¼ tsp crushed red pepper flakes
3 Tbs chopped fresh parsley leaves
1/4 cup freshly grated Pecorino Romano
1/4 cup freshly grated Parmesan, plus extra for serving
3 Tbs milk 1 extra-large egg, lightly beaten
Kosher salt
Freshly ground black pepper
For the soup:
2 Tbs good olive oil
1 cup small chopped yellow onion
1 cup diced carrots, cut into 1/4 inch pieces
3/4 cup diced celery, cut into 1/4 inch pieces
10 cups homemade chicken stock
1 bunch fresh kale, chopped & stems removed
1/2 cup dry white wine
1/2 cup small pasta such as orzo or stars
2 tsp minced fresh dill
Instructions
Preheat the oven to 350 degrees F.
First prepare the meatballs. Wrap a sheet pan with foil and line with parchment paper and set aside.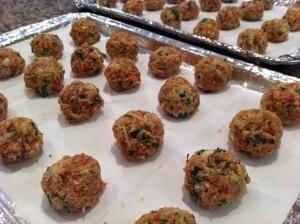 In a large bowl add the ground chicken, Italian sausage broken into small pieces making sure the casing has been removed, bread crumbs, garlic, crushed red pepper, parsley, Pecorino, Parmesan, milk, egg, 3/4 tsp of kosher salt, and 1/2 teaspoon pepper. Use a really large fork and gently incorporate the ingredients without over mixing but fully incorporating. Divide the mixture in half. Each half will prepare 20 meatballs per sheet pan making 40 small 1 inch meatballs in total. Shape the meatballs in your hands but don't over roll and pack.
Bake for 30 minutes, until cooked through and golden brown and start preparing the soup. Meanwhile prepare the soup while the meatballs are cooking. In a large Dutch oven heat the olive oil and add the onion, carrots, and celery and sauté for 8-10 minutes, stirring occasionally until they have softened but not browned. Then add the homemade chicken stock and the wine and bring to a boil add the chopped washed kale and reduce to a simmer. Simmer covered for 20 minutes. Bring the soup back to a boil and uncover add the ½ cup of tiny pasta and cook for the duration of the package specifications. It is important to use very small pasta and a small amount to not make the soup to starchy and so the pasta does not absorb too much soup.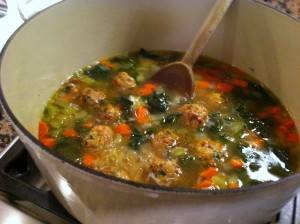 Once the pasta is cook, reduce back to barely simmering, add the cooked meatballs to simmer for a minute or two and serve. Ladle into soup bowls and serve with freshly grated Parmesan cheese.
Culinary tradition: Italian
My rating: 5 stars:  ★★★★★ 1 review(s)
Recipe adapted from the Barefoot Contessa   http://www.barefootcontessa.com/
Copyright © Andicakes 2010.
Recipe by yumm yumm yumm.
Microformatting by
hRecipe
.