Recipe: Popovers
Ingredients
1 1/2 Tbs unsalted butter, melted
1 1/2 cups flour
1/2 tsp kosher salt
3 XL eggs, at room temperature
1 1/2 cups milk, at room temperature
Instructions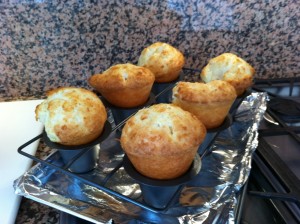 Preheat the oven to 425 degrees F and set a popover pan on a sheet pan and set aside. It is really important the eggs and milk are room temperature. First prepare the batter, in a medium bowl add the flour, salt, eggs, milk and the melted butter and whisk together until the batter is really smooth. The batter is supposed to be thin.
Once the batter is prepared Place the sheet pan with the popover pan in the oven and preheat the pan for exactly 2 minutes. Take the pan out, spay generously with cooking spay; whisk the batter one more time and pour the batter evenly and divided into the 12 tins just less than halfway full and bake for 30 minutes. It is really really important NOT to open the oven to peek while they are baking. After 30 minutes remove from the oven, allow to cool for just a minute and remove from the tin and serve.
Recipe adapted from the Barefoot Contessa   http://www.barefootcontessa.com/
Copyright © Andicakes 2010.
Recipe by yumm yumm yumm.
Microformatting by hRecipe.