Recipe: Cheese and Cauliflower Gratin
Ingredients
3 lb head of cauliflower, cut into large florets
Kosher salt
4 Tbs unsalted butter, divided
3 Tbs all-purpose flour
1 3/4 cups skim milk
¼ cup heavy cream
1/2 tsp freshly ground black pepper
1/4 tsp grated nutmeg
1 cup freshly grated Gruyere, divided
1/2 cup freshly grated Parmesan
1/4 cup French style bread crumbs
Instructions
Preheat the oven to 400 degrees F and line sheet pan with foil or parchment paper.
Add water to a large pot and bring to a boil then add 1 Tbs kosher salt. Cook the cauliflower florets for exactly 5 minutes in the salted boiling water then drain and rinse with cold water or dip in an ice bath to stop the cooking. Set the drained cooked and cooled florets aside.
In a small sauce pan over medium to low heat the milk and cream to 140 degrees and keep warm. Do not allow the mixture to boil. Meanwhile in large sauce pan prepare a roux, warm only 2 Tbs of butter and then add the 3 Tbs of flour. Stir constantly for 2 minutes using a wooden spoon to not allow the butter and flour to burn. After 2 minutes pour the warm milk mixture into the roux, increase the temperature and stir constantly bringing the mixture to a boil. Continue to boil and whisk for 1 minute and until it thickens then add ½ tsp of kosher salt, ½ tsp of fresh ground black pepper, the nutmeg Meanwhile, melt the remaining 2 Tbs of butter the flour, stirring constantly with a wooden spoon for 2 minutes. Pour the hot milk into the butter-flour mixture and stir until it comes to a boil. Boil, whisking constantly, for 1 minute, or until thickened.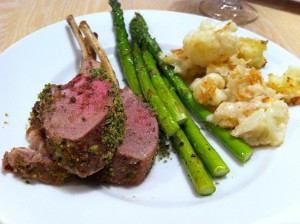 Off the heat, add 1 teaspoon of salt, the pepper, nutmeg, 3/4 cup of the Gruyere, and all of the Parmesan cheese and whisk until smooth. Pour 1/4 of the sauce on the bottom of an 11 inch oval baking dish 2-inches in height then add the cooked cauliflower florets and the spread the rest of the cheese sauce over the tops of the cauliflower. Lastly, spread the remaining Gruyere cheese over the top the cheese sauce and then spread the bread crumbs over the cheese. Cut the remaining 2 Tbs of butter into tiny cubes and sprinkle them all over the top of the bread crumbs.
Set the dish on the lined sheet pan and bake for 30 to 40 minutes and until the top is nicely browned. Serve hot and enjoy.
Recipe adapted from the Barefoot Contessa   http://www.barefootcontessa.com/
Copyright © Andicakes 2010.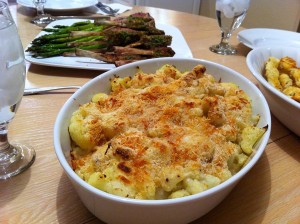 Recipe by yumm yumm yumm.
Microformatting by hRecipe.