Recipe: Baked Herb Lemon Chicken
Ingredients
4 split chicken breasts, skin on
Kosher salt
freshly ground black pepper
1 lemon sliced in wedges, 6-8 slices
1/4 cup extra virgin olive oil
9 cloves minced garlic- about 3 Tbs
1/3 cup dry white wine
1 Tbs grated lemon zest (2 lemons)
 2 Tbs freshly squeezed lemon juice
1½ tsp dried oregano
1 tsp minced fresh thyme leaves, plus 4 sprigs
Instructions
Preheat the oven to 425 degrees. First prepare the chicken breasts by rinsing them and drying with paper towel. On a cutting board using a boning knife, carefully remove the breast bone leaving the skin on and still attached to the breast. Trim any excess fat from the breast and place in a 9 x 13 baking dish skin side up. Repeat with the remaining breasts. Sprinkle the breast with kosher salt and fresh ground pepper. Now slice one lemon lengthwise into 6-8 wedges and set among the chicken breasts in the dish.
Next add the extra virgin olive oil to a small sauté pan and heat over medium-low temperature, once warmed and the minced garlic and cook for just a minute and stirring constantly. Turn the heat off and add the dry white wine, lemon zest, lemon juice, dried oregano, and minced thyme. Pour the warm mixture into the dish to surround the seasoned chicken breasts. Using a brush lightly brush the chicken breasts skins with the oil mixture so it will brown and crisp during baking and then add the 4 sprigs of thyme on top the chicken breasts.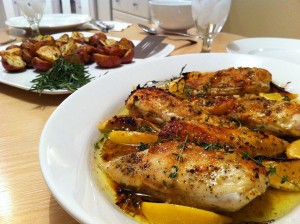 Bake the dish uncovered for 30 to 45 minutes, until the breasts are cooked and reach 165 degrees F. Turn the oven to broil for 1-3 minutes and broil the dish if necessary to brown the skins on the breasts. Remove from the oven, cover with aluminum foil and allow resting for 10 minutes before serving.
Transfer the chicken to a serving platter and pour desired amount of cooking liquid onto the platter for service.
Recipe adapted from the Barefoot Contessa   http://www.barefootcontessa.com/
Copyright © Andicakes 2010.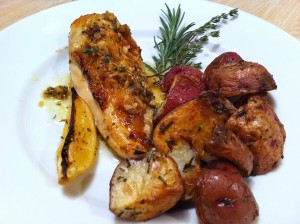 Recipe by yumm yumm yumm.
Microformatting by hRecipe.