Recipe: Chocolate Pots de Crème
Ingredients
10 ounces bittersweet chocolate, chopped fine
5 large egg yolks
5 Tbs sugar
1/4 tsp kosher salt
1 1/2 cups heavy cream
3/4 cup half-and-half
1 Tbs vanilla extract
1/2 tsp instant espresso powder mixed with 1 Tbs hot water
Garnish (optional)
 Whipped cream
Chocolate shavings for sprinkling
Instructions
First place the chopped chocolate in a heat proof bowl and then place a fine mesh strainer over the heat proof bowl and set them aside.
 In another bowl combine the 5 egg yolks, sugar and the kosher salt and whisk to combine. Slowly add the heavy and half and half to the bowl with the yolks, sugar and salt and whisk to combine well.
Transfer this mixture to a saucepan and heat gently until the mixture thickens and the custard reaches between 175-180 degrees F. It is really important not to allow the custard to overcook.
Now pour the custard through the fine mesh strainer over the chopped chocolate. Allow the warm custard to cover and sit over the chopped chocolate for 3 minutes before whisking it smooth. By doing so the chocolate will warm and melt more easily and give a silky texture. While whisking, add the vanilla extract and espresso mixture until fully incorporated and the chocolate custard is smooth.
Pour the custard evenly divided among 8 (5oz) ramekins and tap the filled ramekin bottoms against the counter to release any air bubbles. Allow the filled ramekins to cool to room temperature then cover each ramekin with plastic wrap and refrigerate for at least 4 hours but can be prepared up to 2 days in advance.
Before serving allow the chocolate pots de crème to set at room temperature for 30 minutes and garnish if desired with whipped cream and shaved chocolate.
Culinary tradition: French
Recipe adapted from America's Test Kitchen   http://www.americastestkitchen.com/
Copyright © Andicakes 2010.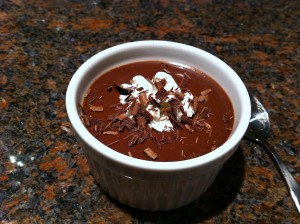 Recipe by yumm yumm yumm.
Microformatting by hRecipe.