Recipe: Bouillabaisse
Summary: Seafood Stew
Ingredients
3 Tbs good olive oil
1 1/2 cups chopped yellow onions
2 cups large-diced Yukon potatoes
2 cups chopped fennel
2 tsp kosher salt
1 tsp freshly ground black pepper
2 cups good white wine
1 (28oz) can plum tomatoes, chopped
1 quart Seafood Stock or store bought fish stock
1 Tbs chopped garlic
1 tsp saffron threads
1 lb large shrimp, shelled and deveined
1 lb lobster, shelled and cut in large chunks
1 lb mussels, cleaned
1 lb calamari, cleaned and cut into rings
1 tsp grated orange zest
For serving:
Toasted baguette slices, rubbed with garlic
Instructions
In a Dutch oven heat the olive oil and add the onions, potatoes, fennel sat and pepper and sauté for 15 to minutes over medium low heat. Stir occasionally and after 15 minutes the onions should just begin to brown.
Now add the garlic and cook for 1 minute stirring frequently then add the wine and scrape the brown bits using a wooden spoon. Next add the chopped tomatoes including their juices, 1 quart of seafood stock, and the saffron; stir and lower the heat to a simmer and cook uncovered for 15 minutes.
After 15 minutes the potatoes should be tender and cooked through, if needed-continue to cook until the potatoes are ready to be served then add the shrimp, lobster, mussels and calamari and bring the bouillabaisse to a boil, then reduce the heat to a simmer and cover for 5 minutes. Turn the heat off after 5 minutes, leave the pot covered for another 5 minutes before serving.
Discard any mussels that have not opened as they are not safe to eat, stir in the orange zest, ladle the stew into bowls and serve with garlic rubbed toasted baguette slices.
Recipe adapted from the Barefoot Contessa   http://www.barefootcontessa.com/
Culinary tradition: French
Copyright © Andicakes 2010.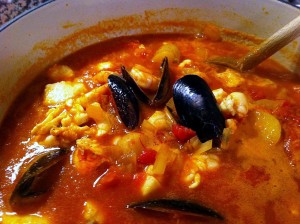 Recipe by yumm yumm yumm.
Microformatting by hRecipe.