Recipe: Beef Bourguignon
Ingredients
2 1/2 pounds chuck beef cut into 1-inch cubes
Kosher salt
Freshly ground black pepper
1 tsp olive oil
8 oz thick cut bacon, diced into ¼ inch cubes
1 pound carrots, sliced into 1 inch chunks
2 yellow onions, diced small
2 cloves garlic, chopped
1 Tbs tomato paste
1 (750 ml.) dry red wine
2 cups beef broth
1 tsp chopped fresh thyme leaves
4 Tbs unsalted butter at room temperature, divided
1 lb fresh mushrooms stems discarded, caps sliced thick
3 Tbs all-purpose flour
1 lb frozen whole pearl onions
1/2 cup chopped fresh parsley
Instructions
First preheat the oven to 250 degrees F
Next dry the pieces of cubed beef with paper towel. Season the cubes with kosher salt and pepper and set aside at room temperature for 20 minutes. In a large Dutch oven heat 1 tsp of olive oil and add the dices bacon and cook over medium heat for 10-15 minutes until the bacon is brown and crisp. Remove the bacon with a slotted spoon and transfer to a plate lined with paper towel to drain and set aside.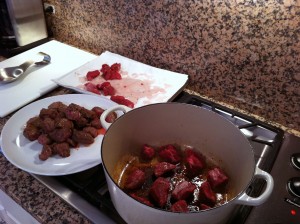 In the same pot with the rendered bacon fat sear the dry pieces of beef in batches browning all sides 1-2 minutes per side and transfer to a plate. Make sure not to over crowd the pan as the beef will steam rather than sear. Continue to work in batches until all the beef is browned but not cooked through. In the same pot with the brown bits and bacon fat add the sliced carrots and diced onions and sauté for 15 minutes until the onions are lightly caramelized. Then add the chopped garlic and stir for 1 minute to not allow the garlic to burn. Add the tomato paste and stir constantly for 2 minutes until the paste darkens and becomes real fragrant then add the entire 750 ml of dry red wine, deglaze the pan using a wooden spoon to scrape the brown bits from the bottom of the pan.
Return the seared meat back to the pan along with any juices it has accumulated, add the beef broth and then add the chopped fresh thyme. Bring the pot to a simmer, cover with a tight fitting lid and place in the oven for 1 hour and 15 minutes.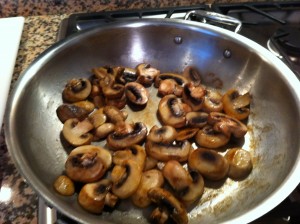 Meanwhile in a large sauté pan heat 2 Tbs of room temperature butter with the sliced mushroom caps for 20 minutes until caramelized and set aside. After the 1 hour 15 minutes the meat should be tender. Place the Dutch oven back on the stove top and bring to a simmer uncovered. Meanwhile in a bowl combine the remaining 2 Tbs of the room temperature butter along with 3 Tbs of flour and use a fork to mash the flour into the butter to make a paste. Add the mixture to the stew and stir to incorporate the mixture. This will not only flavor the stew but will richly thicken it as well. Now add the frozen pearl onions and continue to simmer for another 10 minutes and then add the sautéed mushroom and continue to simmer another 5 – 10 minutes to heat through. Serve the beef bourguignon with a sprinkle of fresh chopped parsley.
Culinary tradition: French
Recipe adapted from the Barefoot Contessa   http://www.barefootcontessa.com/
Copyright © Andicakes 2010.
Recipe by yumm yumm yumm.
Microformatting by hRecipe.