Recipe: Crispy Cajun Potatoes
Ingredients
3 lbs Yukon potatoes, quartered
¼ cup extra virgin olive oil
1 1/2 tsp cayenne pepper
2 tsp fresh ground black pepper
1 ½ tsps kosher salt
Instructions
Preheat oven to 400 degrees F
In a ziplock bag combine the quartered potatoes, olive oil and fresh ground black pepper. Using the bag, massage to coat all the potatoes and dump the contents from the bag onto a rimmed baking sheet lined with aluminum foil.
Spread the potatoes in a single layer and season with approximately 1 ½ teaspoons of kosher salt and bake until crisp; about 50 minutes to 1 hour and serve immediately.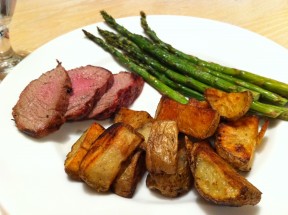 Preparation time: 10 minute(s)
Cooking time: 1 hour(s)
Copyright © 2011 Andicakes.
Recipe by Now you're cooking.
Microformatting by hRecipe.