RECIPE: SHRIMP SCAMPI
Ingredients: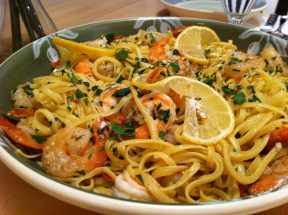 3/4 pound linguine
4 Tbs Extra virgin olive oil, divided
1 pound large shrimp (about 16 shrimp), peeled and de-veined
1 tsp of kosher salt
½ tsp fresh ground black pepper
2 Tbs fresh minced garlic
½ cup chardonnay
1/4 cup freshly squeezed lemon juice
1 lemon, zested
1/8 teaspoon hot red pepper flakes
1/3 cup chopped fresh parsley leaves
1/4 lemon, thinly sliced in half-rounds
2 Tbs butter
Directions:
First prepare the pasta.  In a large stock pot bring water to a boil and cook the linguine to the package specifications for "al dente".
Meanwhile, while the pasta is cooking, heat 2 tablespoons of extra virgin olive oil in a large skillet over medium heat and add the shrimp in a single layer. Season the shrimp with a ½ teaspoons of kosher salt and ¼ teaspoon of fresh ground and cook for 2 ½ minutes on the first side. Do not stir or move the shrimp,  after 2 ½ minutes flip the shrimp over and season the other side with a ½ teaspoons of kosher salt and ¼ teaspoon of fresh ground and cook for another 1½ minutes undisturbed. The shrimp should be just cooked through. Remove them from the skillet and set them aside on a plate.
Next use the same pan leaving the fond from the cooked shrimp add the remaining 2 tablespoons of extra virgin olive oil and the sauté the garlic over medium heat for 1 minute stirring constantly. Add the chardonnay bring to boil and then immediately reduce to a simmer and let it reduce slightly then add the fresh lemon juice, lemon zest and the red pepper flakes. Whisk to incorporate.
Now, lower the heat to very low and whisk in 2 tablespoons of butter until incorporated and add the parsley. Now add the shrimp back to the pan with any accumulated juices and increase the heat slightly too just warm though then add the al dente cooked pasta and toss gently.
Lastly, give the pasta 1 minute to slightly absorb the sauce and serve immediately and garnish with sliced lemon rounds.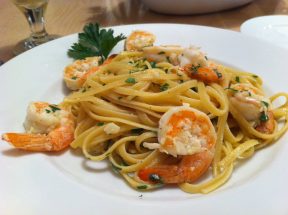 Copyright © 2016 Andicakes.