Recipe: Dutch Oven Bread
Ingredients
7 oz of water
3 oz budweiser beer
1/4 tsp fast acting yeast
15 oz of white all purpose flour
1 Tbs kosher salt
Instructions
In a large bowl weigh 15 ounces of all purpose flour and add the yeast and salt. Wisk together to incorporate and set aside. In another bowl weigh the 7 oz of water and add 3 oz of budweiser. Pour the beer/water combination into the bowl with dry mixture. Using a rubber spatula mix together until no loose flour remains in the bowl but do NOT over mix or bread will be dense. The dough should be fairly wet. Leave in large bowl and cover the top with plastic wrap for in warm room for 15 to 18 hours.
After the 15 to 18 hours on a floured work surface strongly knead the loaf only 10 to 14 times tucking into a round loaf Do NOT over knead.
In a 10 inch skillet place a sheet of parchment paper and give it a quick spay of cooking oil spray and place the rounded dough on top of the parchement paper into the skillet. Give the top of the dough a quick spay of cooking oil and place plastic wrap over to cover the dough to prevent hard edges from forming.
Allow the dough to rest again for 2 hours. Meanwhile while the dough rests for the 2 hour preheat the oven to 500 degrees F as well as an oven safe dutch oven on the lower rack so they will preheat together.
After the 2 hours have lapsed the dough should have doubled in size and bounced back when poked. Take a sharp knife and slice a 6 inch long 1/2 in thick line down the center of the dough. Remove the preheating dutch oven pot out of the oven. Pick up the resting dough from the 10 inch skillet using the parchment paper as wings and transfer into the preheated dutch oven pot including the parchment paper beneath the dough leaving the wings on the side. Cover with dutch oven safe lid reduce the temperature to 425 degrees F and bake for 30 minutes. After 30 minutes remove the lid and continue to bake for approximately 25 minutes more uncovered. After 25 minutes the temperature of the loaf should register 210 degrees F. Remove from the dutch oven using the parchement paper and allow the bread to cool on a wire rack for atleast 2 hours before slicing.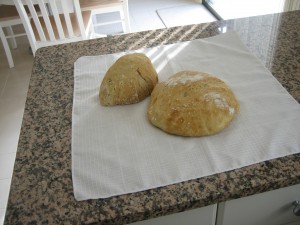 Prep time (duration): overnight
Recipe adapted from America's Test Kitchen   http://www.americastestkitchen.com/
Copyright © Copyright andicakes 2010.
Recipe by yumm yumm yumm.
Microformatting by hRecipe.