Recipe: Pot Roast in Sauce Bourguignonne
Ingredients
1 (4 ½ pound) prime boneless beef chuck roast, tied
Kosher salt and freshly ground black pepper
1 ½ cups all-purpose flour
Good olive oil
5 carrots, chopped small
2 yellow onions medium size, chopped small
2 stalks celery, chopped small
2 leeks, white and light green parts, small diced
5 large garlic cloves, peeled and minced
2 cups good red wine, such as a cabernet or burgundy
2 tablespoons Brandy
1 (28-ounce) diced tomatoes
1 cup chicken stock, low sodium Swanson's
1 chicken bouillon cube
3 branches fresh thyme
2 branches fresh rosemary
1 tablespoon unsalted butter, at room temperature
Instructions
Preheat the oven to 325 degrees F.
Tie the thyme and rosemary branches together with kitchen string and set aside for later.
In a large bowl add the chopped onions, celery, leeks (make sure leeks are washed well and all sand has been removed), carrots and garlic together and set aside. T
ake the tied chuck roast and pat the beef dry with a paper towel. Season the entire roast on all sides with 1 tablespoon salt and 1 1/2 teaspoons pepper. Dredge the whole roast in the all purpose flour, including the sides. Heat 2 Tbs of olive oil in a large Dutch oven over medium heat. Add the roast and sear for 4 to 5 minutes, until nicely browned then turn and sear the other side for another 4-5 minutes. Next do the sides for another 4-5 minuets on each of the sides. This whole browning should take 24-30 minutes. Remove the browned chuck roast to a large plate. In the same dutch oven leaving all the brown bits and reserved fat/oil add the bowl with the chopped carrots, onions, celery, leeks and minced garlic to the pot and cook over medium heat for 15 to 20 minutes until the vegetables are tender but not caramelized. Add the wine and brandy and bring to a boil, then add the diced tomatoes with their juices, chicken stock, bouillon cube, 2 teaspoons salt, and 1 teaspoon pepper. Give the pot a big stir and drop in the tied rosemary/thyme bouquet. Carefully add the browned roast back into the pot, along with any juices it may have released and bring the pot back to a boil, and cover.
Place the pot the oven covered for 2 to 2 1/2 hours, until the meat is fork tender or until the roast is at least 160 degrees F internally BUT turn the heat down to 250 degrees F after the 1st hour to keep the sauce at a simmer.
After 2 to 21/2 hours remove the roast from the pot and set on a cutting board. Remove the herb bundle from the pot and discard. Try to skim off as much fat as possible from the sauce and return the pot back to stove and bring the sauce back to a simmer. Place 2 tablespoons flour and the butter in a small bowl and mash them together with a fork and stir the mixture into the sauce and simmer for 2 minutes, stirring until thickened. Taste for seasonings. Remove the strings from the roast, and slice the meat.
Serve warm with the sauce spooned over it. There will be a lot of sauce left over to serve separately in a gravy bowl and plenty for reheating for leftovers.
Serve immediately and with roasted root vegetables.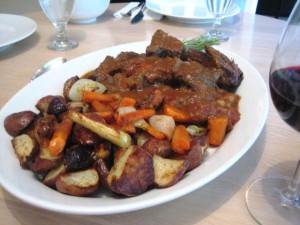 Recipe adapted from the Barefoot Contessa   http://www.barefootcontessa.com/
Copyright © Andicakes 2010.
Recipe by yumm yumm yumm.
Microformatting by hRecipe.