Recipe: Tzatziki Sauce
Ingredients
1 lb 2% Plain Greek yogurt
2 cloves garlic crushed
1 medium cucumber
2 Tbs champagne vinegar
2 Tbs fresh lemon juice
½ tsp Kosher salt
¼ tsp fresh ground black pepper
¼ cup extra virgin olive oil
Instructions
Wash, peel and de-seed the cucumber. Finely mince the cucumber and place in a medium bowl. Add the 1lb of 2% plain Greek yogurt along with the crushed garlic, champagne vinegar, fresh lemon juice, salt and pepper. Using a whisk combine the ingredient until incorporated.
Slowly drizzle in the extra virgin olive oil into the yogurt mixture while whisking constantly to fully incorporate. Refrigerate the Tzatziki for at least 1 hour before serving.
Meal type: dinner
Recipe adapted from the Barefoot Contessa   http://www.barefootcontessa.com/
Culinary tradition: Greek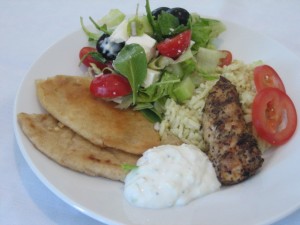 Copyright © Andicakes 2010.
Recipe by yumm yumm yumm.
Microformatting by hRecipe.