Recipe: Pasta Caprese
Ingredients
¼ cup extra-virgin olive oil
3 tsp fresh lemon juice
1 tsp sugar
1 garlic clove- pushed through a garlic press
1 shallot- minced
7 medium tomatoes- cored and seeded- small diced
12 oz of fresh mozzarella- diced
1 lb of fusilli or campenelle pasta
1 Tbs kosher salt
¼ cup chopped fresh basil
Instructions
Bring water to a boil in a large pot for the pasta. Meanwhile prepare the tomatoes. In a medium bowl whisk together the olive oil, lemon juice, sugar, pressed garlic and the minced shallot. Remove the cores and deseed the tomatoes and dice into ¼ inch pieces. Add the diced tomatoes to the same bowl and marinade for up to 1 hour. Once the pasta water is boiling add 1 Tbs of kosher salt and add the pasta and cook to the package specifications. Meanwhile dice the fresh mozzarella and freeze the diced pieces for 10 minutes. Add the cooked pasta to the tomato mixture and add the par-frozen cheese and chopped basil. Stir to combine well and serve warm.
Quick Notes
By freezing the cheese for 10 minutes it prevents the cheese from melting into unattractive chucks. The firmed cheese will come to room temperature and hold its shape with this preparation.
Recipe adapted from America's Test Kitchen   http://www.americastestkitchen.com/
Cooking time (duration): 30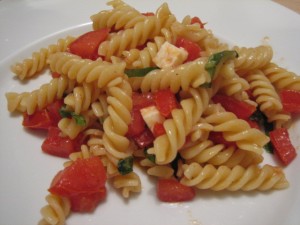 Meal type: lunch
Culinary tradition: Italian
Copyright © Andicakes 2010.
Recipe by yumm yumm yumm.
Microformatting by hRecipe.