Recipe: Peach Crumb Coffee Cake
Ingredients
For the streusel:
3/4 cup all-purpose flour
1/3 cup light brown sugar
1/4 cup granulated sugar
1 tsp. ground cinnamon
6 Tbs. cold unsalted butter, diced
For the cake:
1 1/2 cups all-purpose flour
3/4 cup granulated sugar
2 tsp. baking powder
1/2 tsp. table salt
1 egg
4 Tbs unsalted butter, melted
1/2 cup milk
3 tsp. vanilla extract
2-3 firm, large ripe peaches
Instructions
Preheat an oven to 350°F and grease and flour a 9-inch round spring-form
First prepare the peaches. Fill a large bowl filled with ice and water and set aside. Next bring water to a boil in a 3 quart saucepan. Use a paring knife to score a small x at the base of each peach. Add the scored peaches to the boiling water for 1 to 2 minutes at a time and then using a slotted spoon transfer the boiled peaches to the ice water to stop the cooking. Remove the peaches from the ice bath and peel the peaches. To peel the peach, starting from the scored x, peel each peach, halve and pit it, and cut into 1-inch slices. Place the sliced peaches in a small bowl and set aside.
Next make the streusel by adding in a medium bowl the flour, brown and granulated sugars and cinnamon. Stir the dry ingredients together until they are incorporated. Next add the cold diced butter and using your finger tips work the butter into the dry ingredients until coarse crumbs are formed and set the prepared streusel aside.
Now prepare the cake. In a bowl, stir together the flour, granulated sugar, baking powder and salt until combined. In the bowl of an electric mixer on medium speed using the whisk attachment beat the egg, melted butter, milk and vanilla until creamy. This will take about 2 minutes to fully incorporate. Now add to the flour mixture to the wet mixture and beat just until evenly moistened. There should be no lumps or dry spots. Do not over mix.
Spoon the batter into the prepared spring form pan and spread evenly. Now arrange the peach slices in concentric circles from the pan sides to the center and gently press the slices into the batter. Sprinkle the prepared streusel mixture evenly across the top of cake and bake for 35 to 45 minutes. The clean tooth pick test works on this cake and then allow the cake to cool on a wire rack for 20 minutes before removing from the spring form pan and serve warm or room temperature.
Vanilla ice cream is a great accompaniment to this cake.
Recipe adapted from America's Test Kitchen   http://www.americastestkitchen.com/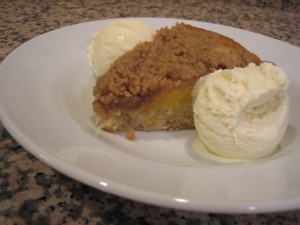 Copyright © Andicakes 2010.
Recipe by yumm yumm yumm.
Microformatting by hRecipe.