Recipe: Homemade Chicken Stock
Ingredients
2 (3-4lb) chickens
3 large yellow onions, unpeeled and quartered
6 carrots, unpeeled and halved
6 stalks celery with leaves, cut into thirds
20 sprigs fresh parsley
20 sprigs fresh thyme
20 sprigs fresh dill
1 head garlic, unpeeled and cut in 1/2 crosswise
1 Tbs kosher salt
3 tsp whole black peppercorns
Instructions
In a very large stockpot add the onions, carrots, celery, parsley, thyme, dill and the garlic. Next rinse the chickens and add them to the pot. Add 4 quarts of water, salt and whole black peppercorns to the stockpot. Bring the stockpot to a boil and skim off any scum and then reduce the heat and simmer uncovered for 3.5 to 4 hours. Strain the stock in a colander and throw away the contents and then strain again through a sieve to produce a clear broth. Chill the stock for about 2 hours covered with plastic wrap and once cooled to room temperature the stock can be refrigerated for 5 days or froze for up to 3 months.
Recipe adapted from the Barefoot Contessa   http://www.barefootcontessa.com/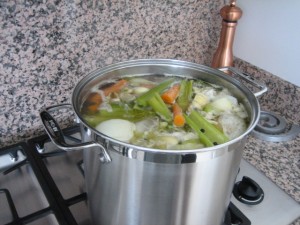 Copyright © Andicakes 2010.
Recipe by yumm yumm yumm.
Microformatting by hRecipe.