Recipe: Pork Tenderloin with an Herb Crust
Ingredients
For the herb rub:
1 Tbs Kosher salt
4 cloves of garlic minced
2 Tbs fresh minced thyme
2 Tbs fresh minced rosemary
1 tsp fresh ground pepper
1 tsp dry basil
1 tsp dry parsley
¼ cup olive oil
Instructions
Preheat the oven to 400 degrees F
In a small bowl mix all the rub ingredients together and rub the on the tenderloins and place the tenderloins in a shallow glass bowl. Cover them with plastic wrap and let stand at room temperature, for up to 1 hour. Preheat a skillet over medium-high heat and place the herb rubbed tenderloins in the hot skillet and brown all four sides for 1-2 minutes a side. Transfer the browned tenderloins to a sheet pan lined with a rack and roast the tenderloins for 20 to 30 minutes total for a slightly pink at the center and juicy doneness.
 Test for doneness by inserting an instant-read thermometer into the thickest part of the tenderloin; it should register 140°F. The temperature will rise another 5° while the meat is resting. The tenderloins will be very pink but it's just fine as long the thickest part registers 140 degrees.
Transfer the tenderloins to a carving board, cover loosely with aluminum foil and let rest for 5 minutes and then carve.
Diet (other): Low calorie, Reduced fat
Meal type: dinner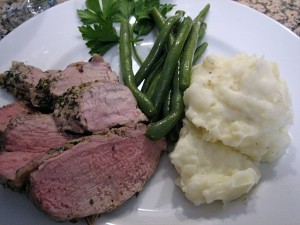 Copyright © Andicakes 2010.
Recipe by yumm yumm yumm.
Microformatting by hRecipe.