Recipe: Mexican Style Chicken Soup
Ingredients
4 split chicken breasts, bone in, skin-on
Good olive oil
Kosher salt
Freshly ground black pepper
2 large onions, chopped
3 stalks of celery, chopped
6 carrots, peeled and chopped
4 large cloves garlic, chopped
2 1/2 quarts chicken stock, see Homemade Chicken Stock
1 (28-ounce) can whole tomatoes in puree, crushed
2 jalapeno peppers, seeded and minced
1 teaspoon ground cumin
1 teaspoon ground coriander seed
1/2 cup chopped fresh cilantro leaves
6 (6") fresh white corn tortillas
For toppings:
Sliced avocado
Sour cream
Lime wedges
Tortilla chips
Instructions
Preheat the oven to 350 degrees F.
Prepare the chicken by rinsing the breasts and patting dry. Place them on a sheet pan. Drizzle good oil on both sides of the breasts and season with salt and pepper. Roast the breasts for 25 minutes or until the breasts reach a temperature of 165 degrees. Remove the breasts from the oven and allow them to cool enough on the sheet pan until you able to shred. Once slightly cooled; shred the chicken using a fork and pulling the breast against the grain. This will produce long shreds of chicken easily.
Meanwhile, in a large Dutch oven heat 2 tablespoons of olive oil and add the onions, celery, and carrots and cook over medium-low heat for 10 minutes, or until the onions start to brown. Once the onions begin to brown add the garlic and cook for 30 seconds and then add the chicken stock, tomatoes with puree, chopped jalapenos, cumin, coriander, 1 tsp of Kosher salt, 1 teaspoon freshly ground black pepper, and the cilantro. Cut the tortillas into 1/2-inch strips and then cut them in half and add them to the soup.
Bring the soup to a boil, then lower the heat and simmer for 25 minutes. After 25 to 30 minutes add the shredded chicken and season to taste.
Serve the soup hot topped with sliced avocado, a dollop of sour cream, tortilla chips and a fresh squeeze of lime juice.
Culinary tradition: Mexican
Recipe adapted from the Barefoot Contessa   http://www.barefootcontessa.com/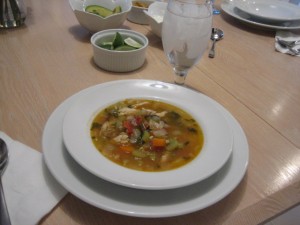 Copyright © Andicakes 2010.
Recipe by yumm yumm yumm.
Microformatting by hRecipe.