Recipe: Cider Glazed Pork Chops
Ingredients
4 boneless center cut pork chops, ½ – ¾ " thick
2 tsps vegetable oil
Kosher salt
Fresh ground black pepper
For the Glaze:
1/2 cup apple cider vinegar
1/3 cup light brown sugar
1/3 cup apple juice
1 Tbs Dijon mustard
1 Tbs soy sauce
1/8 tsp cayenne pepper
Instructions
First prepare the chops by rinsing and patting them dry. Use a paring knife to make 3 slits in the outer fat ring about 1-2 inches apart but be careful not to cut into the meat of the chops. This slit in the fat will prevent the chops from curling when they are heated and they will remain flat. Season the dried chops with kosher salt and black pepper on both sides. Place the prepared chops aside.
In a glass bowl combine the all the ingredients for the glaze, combine well and set the glaze aside.
In a large heavy bottomed skillet heat the vegetable oil over medium high heat. When the oil is hot and just begins to smoke add the chops. Brown the pork chops for 5 minutes on the first side, then flip and brown for 4 minutes on the other side. Continue to brown until the temperature reaches 140 degrees then transfer the pork chops to a plate. Add the glaze mixture to the skillet and reduce for 3 minutes then add the chops back into the skillet with the brownest side up along with any juices that have accumulated. Continue to reduce the sauce for another 3-5 minutes or until the glaze is dark like the color or caramel and is thick .The sauce will thicken so that when you drag a rubber spatula or wooden spoon through the glaze it leaves a clean trail. Coat the chops with the thick glaze, transfer to a serving plate and serve.
Meal type: dinner
Recipe adapted from America's Test Kitchen   http://www.americastestkitchen.com/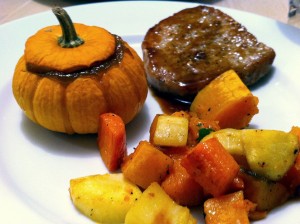 Copyright © Andicakes 2010.
Recipe by yumm yumm yumm.
Microformatting by hRecipe.