Recipe: Torta Caprese
Summary: Chocolate almond flourless cake from the Isle of Capri
Ingredients
9 oz Ghirardelli 60% bittersweet chocolate chips
1 cup butter, diced into 2 inch pieces
¼ cup dark cocoa powder
2 tsp pure almond extract
1 ¼ cup granulated sugar
2 cups blanched slivered (skinless) almonds
6 eggs, room temperature
3 Tbs confections sugar
Raspberries-optional to decorate
Vanilla gelato- optional for serving
Instructions
Preheat the oven to 310°F and line the bottom of a 9-inch spring form pan with parchment paper and grease the pan with non-stick spray or butter.
In a sauté pan roast the blanched- (skins removed) almonds. Toast the almonds for 4-6 minutes until fragrant and toasted. Once toasted, add the almonds to a food processor and process until finely ground. Measure out 1 ½ cups of the ground toasted almonds and set aside.
Use a double boiler to slowly melt the chocolate chips and the chopped butter. Use a whisk to incorporate the melting butter and chocolate over the double boiler, once melted add the chocolate mixture to the bowl of a stand mixer.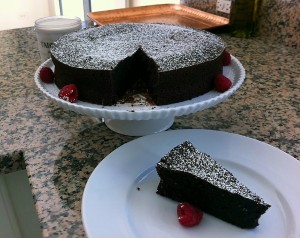 Meanwhile, add ¼ cup of dark cocoa powder and add 2 to3 Tbs of very hot water to a small bowl. Use a fork to stir and dissolve the cocoa until smooth and set aside.
In a stand mixer using a whisk attachment, whisk together the melted chocolate mixture, the dissolved cocoa powder, pure almond extract and the granulated sugar until combined. Add the ground toasted almonds to the chocolate mixture and whisk until fully incorporated. Now add the room temperature eggs one at a time. Add each egg, wait until it is fully incorporated then add the next, repeating the process until all the eggs have been added. Pour the mixture into the prepared 9 inch spring-form pan and bake for 50-60 minutes. Bake until the center is just set and allow the cake to cool at room temperature.
Remove from the spring form pan and transfer to a serving platter. Dust the cake with confection sugar, decorate with raspberries and serve with vanilla gelato.
Culinary tradition: Italian
My rating: 5 stars:  ★★★★★ 1 review(s)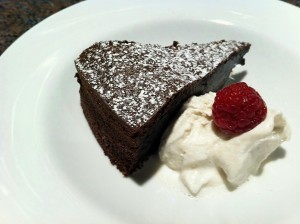 Copyright © Andicakes 2010.
Recipe by yumm yumm yumm.
Microformatting by hRecipe.