Recipe: Roasted Cauliflower
Ingredients
1 head cauliflower, cut into medium florets
1 tsp Kosher salt
2 ½ Tbs extra-virgin olive oil
1/2 tsp freshly ground black pepper
Instructions
Preheat the oven to 400 degrees F and line a sheet pan with aluminum foil or parchment paper.
Wash and dry the cauliflower head. Cut the cauliflower head into medium sized florets. In a large bowl add the florets and add the extra virgin olive oil. With clean hands toss the florets in the oil to coat evenly. Depending on the size of the head you may need a little more or less olive oil. Spread the coated florets on the lined sheet pan in a single layer.
Sprinkle at least 1 tsp of kosher salt and ½ tsp of fresh ground black pepper over the florets and bake for 25 to 35 minutes, until the tops are browned. Serve hot or at room temperature.
Recipe adapted from the Barefoot Contessa   http://www.barefootcontessa.com/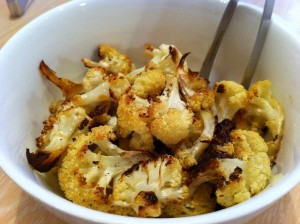 Copyright © Andicakes 2010.
Recipe by yumm yumm yumm.
Microformatting by hRecipe.