Recipe: Carnitas
Ingredients
For the Pork:
1 (4lb) boneless pork butt, fat cap trimmed to 1/8" thick, then cut into 2" chunks
1 tsp kosher salt
½ tsp black pepper
1 tsp ground cumin
1 small onion, peeled and halved
2 bay leaves
1 tsp dried oregano
2 Tbs fresh lime juice
2 cups water
1/3 cup fresh orange juice, reserve the spent orange shells
For Serving and Garnishes:
2 dozen (6") corn tortillas, warmed
Cut Lime wedges
Minced white or red onion
Fresh cilantro leaves, chopped
Thinly sliced radishes
Sour cream
Instructions
Preheat the oven to 300 degrees on the lower middle position.
In a large Dutch oven add the cubed pork, salt, pepper, cumin, onion, bay leaves, oregano, lime juice and 2 cups of water. The 2 cups should be just enough to barely cover the meat. In a small bowl juice the orange to obtain 1/3 cup fresh orange juice and remove the seeds. Pour the fresh orange juice into the pot and add the spent orange shells to the pot too. On the stove top heat Dutch oven and bring the mixture to a simmer, stirring occasionally. Once the contents are simmering, cover with an oven safe lid and transfer to the oven to cook covered for 2 hours in total.
After one hour of cooking flip the pieces of meat over and continue to cook for the remaining hour covered. After 2 hours the meat should be very tender and falling apart. Remove the pot from the oven and turn the oven to broil. Use a slotted spoon and transfer the pieces of meat to medium bowl and set aside. In another bowl use the slotted spoon to remove bay leaves, orange halves and the halved onion. Place the Dutch oven and heat the remaining liquid on the stovetop for 8-12 minutes until the liquid reduces to a thick syrup. After 12 minutes or so the liquid should cook down to about 1 cup of a syrupy glaze and set aside.
Using two forks shred the pieces of pork and remove any large pieces of fat. Pour the glaze over the shredded pork. Line a sheet pan with foil and insert a wire rack. Place the glazed shredded pork in an even layer on the rack and broil for 5 to 8 minutes until well browned and the edges are crisp. Flip the pork and broil another 5 minutes.
Transfer to a serving platter and serve with warm tortillas and serve with bowls of the remaining garnishes.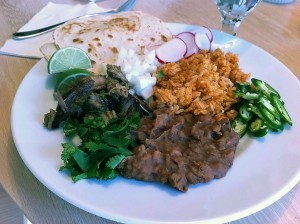 Meal type: dinner
Recipe adapted from America's Test Kitchen   http://www.americastestkitchen.com/
Culinary tradition: Mexican
Copyright © Andicakes 2010.
Recipe by yumm yumm yumm.
Microformatting by hRecipe.