Recipe: Vegetable Cream Cheese
Ingredients
8 oz cream cheese, softened
1 1/2 Tbs minced carrots
1 1/2 Tbs minced celery
2 stems scallions, chopped
small Pinch of kosher salt and pepper each
Instructions
Add the softened cream cheese in a small bowl. Using a fork mix together the salt, pepper, carrots, celery and scallions into the softened cream cheese until well combined.
Serve the cream cheese with toasted bagels cut crosswise.
Meal type: breakfast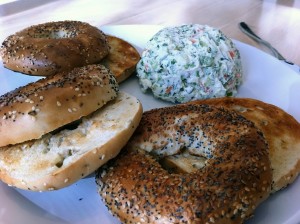 Recipe adapted from the Barefoot Contessa   http://www.barefootcontessa.com/
Copyright © Andicakes 2010.
Recipe by yumm yumm yumm.
Microformatting by hRecipe.