Recipe: Roasted Cornish Hens
Ingredients
4 (1 1/2 pound) Cornish hens
Kosher salt
Freshly ground black pepper
8 fresh thyme branches
1 lemon, quartered
1 head garlic, quartered
1 yellow onion, quartered
4 Tbs butter, softened
1 large onion sliced
Instructions
Preheat the oven to 415 degrees F. Line a heavy duty sheet pan with foil and set aside.
Rinse the Cornish hens inside and out and remove any giblets stored inside the hens. Pat the outside of the Cornish hens dry with paper towel and look over for any pins from feathers remaining. Liberally salt and pepper the insides of the Cornish hens using about 1/4 teaspoon of each. Now stuff each of the cavities with the following: 2 springs of thyme, 1 quarter of the lemon, 1 quarter of the garlic and 1 quarter of the onion. Using clean hands rub the outsides of the Cornish hens with 1 Tbs of butter on each and coat the skins so they will crisp while cooking. Now season the outside of each Cornish hen with ¼ teaspoon of Kosher salt and ¼ teaspoon of fresh ground black pepper. Tie the legs together with kitchen string and place the Cornish hens on top of the foil lined sheet pan with enough space around each hen for even cooking. Spread slices of onion around the Cornish hens to prevent the drippings from burning while roasting.
Roast the Cornish hens for about 35 to 45 minutes, or until the juices run clear when you cut between a leg and thigh and the temperature reaches 180 degrees in the thigh. Remove the Cornish hens from the oven and set on a carving board to rest for about 10 minutes. Remove the stings and aromatics inside if desired and then transfer the Cornish hens to a serving platter and serve.
Meal type: dinner
Recipe adapted from the Barefoot Contessa   http://www.barefootcontessa.com/
Copyright © Andicakes 2010.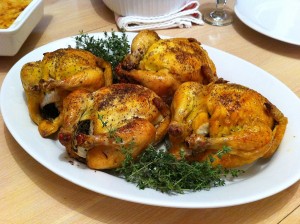 Recipe by yumm yumm yumm.
Microformatting by hRecipe.