Recipe: Stuffing/Basic Bread Dressing
Ingredients
1 cup homemade chicken stock
1 (12 oz) bag Pepperidge Farm cubed Herb Stuffing
8 Tbs unsalted butter
2 yellow onions, chopped
1 cup chopped celery
½ cup parsley, chopped
1 Tbs minced fresh sage
1 Tbs minced fresh thyme
½ tsp kosher salt
½ tsp fresh ground black pepper
1/8 tsp of ground nutmeg
1/8 tsp ground cloves
2 large eggs, beaten well
Instructions
First preheat the oven to 400°F.
In a small saucepan heat the homemade chicken stock and keep hot.
In a very large prep bowl empty 1 12oz package of herb cubed Pepperidge Farm stuffing. In a large skillet over medium low heat melt 8 Tbs of butter then add the chopped onions and celery and sauté for 5 minutes until translucent but not browned. Turn the heat off and add the minced, parsley, sage, thyme, salt, pepper, nutmeg and sage. Stir gently to incorporate into the onions and celery.
Scatter the onion/celery/herb mixture to the cubed stuffing and then spread the well beaten eggs and drizzle 1 cup of hot chicken stock into the bowl. Use a very large fork to mix and gently incorporate but not over mix, pack or mash the mixture. Spay a baking dish with cooking spray or grease with butter and add the dressing to the dish making sure not to pack the contents.
Bake for 40-45 minutes until the top is golden brown and serve.
Recipe adapted from The Joy of Cooking cook book
My rating: 5 stars:  ★★★★★ 1 review(s)
Copyright © Andicakes 2010.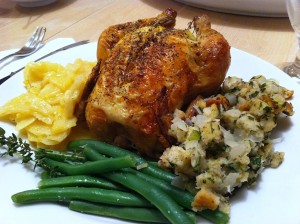 Recipe by yumm yumm yumm.
Microformatting by hRecipe.