Recipe: Chocolate Molten Cookies
Ingredients
2 1/4 cups all-purpose flour
1 1/2 tsp baking powder
2 1/4 cups granulated sugar
3 tsp cinnamon
1 cup butter, room temperature
3/4 cup dutch processed cocoa powder
2 large eggs, room temperature
2 tsp vanilla extract
1/2 cup small chopped 65% cocoa chocolate
Instructions
First preheat the oven to 350 F. Line 2 light colored sheet pans with parchment paper and set aside.
In a medium bowl sift together the flour and baking powder and set aside.
In a small bowl combine the sugar and cinnamon and mix well with a fork until fully incorporated. Set ½ cup of the cinnamon sugar aside and pour the remaining mixture into the bowl of a stand mixer. Using the paddle attachment Add the room temperature butter to the cinnamon sugar mixture and cream for 3 minutes scraping the bowl down halfway through. Once the butter and sugar mixture is creamed and light and fluffy add the Dutch processed cocoa powder, room temperature eggs and the vanilla.
Continue to beat on medium-high until well combined and fully incorporated. Reduce the speed to low and add the sifted dry ingredients about ½ a cup at a time until just incorporated.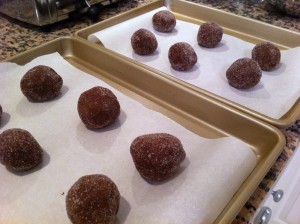 Using a tablespoon, scoop enough dough out to roll a ball about 1 ½ inches wide, then use your thumb to indent the center and fill with chopped chocolate. Then fold dough over the chopped chocolate and roll smooth to encapsulate the chocolate into the 1 ½ inch ball of dough. Roll the 1 1/2 inch dough balls with the chocolate filled center in the remaining ½ cup of the cinnamon sugar mixture to coat the exterior in cinnamon sugar prior to baking and set on the parchment lined sheet pan. Continue the same process until all the dough is used and place about 2 inches apart. Bake for 10-12 minutes until the edges are just firm and the tops are still soft. Rotate the pans halfway through baking. Serve warm f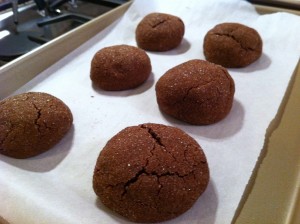 or chocolate molten centers. Makes 3 dozen
Copyright © Andicakes 2010.
Recipe by yumm yumm yumm.
Microformatting by hRecipe.