Recipe: Fettunta with Cannelli Bean Spread
Ingredients
For the Fettunta:
1 loaf of crusty Italian bread
Extra virgin olive oil
1 whole garlic clove, peeled
For the Cannelli bean spread:
1 small clove garlic, minced
1 (15oz) can cannelli beans, rinsed and drained
1 tsp fresh minced rosemary, plus extra for garnish un-chopped
¼ cup high quality extra virgin olive oil, plus 1 Tbs
¼ tsp kosher salt
1/8 tsp fresh ground black pepper
Instructions
Preheat a panini press or griddle pan. Slice a quality crispy crusted Italian loaf of bread into ¼ inch slices, lengthwise. Using a pastry brush or bbq brush, brush each slice with a small amount of good olive oil to coat on each side. Toast the oiled bread slices in the press on the griddle pan until brown and golden and crisp about 1-3 minutes. Remove from the toasted slices and repeat with the remaining sliced bread. Set the toasted slices aside to cool. Once cooled take a whole peeled garlic clove, slice off the top and rub the raw garlic on the toasted golden slices of bread. Place the garlic rubbed toasts on a platter.
Now prepare the spread. In a food processor fitted with a steel blade add the drained and rinsed cannelli beans, the minced garlic, minced rosemary, ¼ cup quality olive oil, salt and pepper and pulse until just smooth about 7, 1 second pulses. Transfer the spread to a serving bowl on the same platter with the garlic toasts and drizzle the remaining 1 Tbs of olive oil and garnish with fresh rosemary and serve.
Meal type: hors d'oerves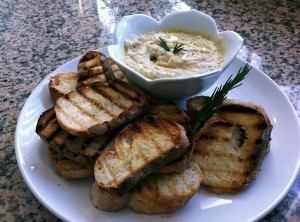 Culinary tradition: Italian
My rating: 5 stars:  ★★★★★ 1 review(s)
Copyright © Andicakes 2010.
Recipe by yumm yumm yumm.
Microformatting by hRecipe.